S192K 7.0 inch IPS Screen Handheld Game Player Android 5.1 Tablet PC Video Game Console, 10000mAh Battery, 4GB+64GB, RK3288 Quad Core up to 1.8GHz, 5.0MP Camera, WiFi, Bluetooth(Black)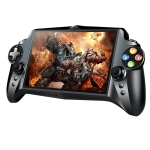 Description
Highlights
1. 7.0 inch IPS screen 1920*1200 pixel, the visual experience is much better.
2. CPU: RK3288 Quad Core 1.8GHz, ARM Cortex-A17, GPU: ARM MAIL-T764.
3. 4GB DDR3 RAM, 64GB EMMC (Support 128GB TF card, not included).
4. 10000mAh battery, long use of time.
5. The 4th Generation buttons mapping for better operation experience.
6. Android 5.1 system, Bluetooth: 4.0, 5M front camera, 1080P HMDI output.
7. Full-featured button, dual 3D joystick, giving you the best game control experience.
8. Support Android games, PC Games, support PSP, PS, NDS, GBA et cetera 18 simulators games.
Parameters
1. Screen: Full HD Retina display IPS, 7.0 inch, 1920*1200 pixel, 323ppi.
2. Touch panel: 5 point capacitive touch.
3. Wireless: Wi-Fi (802.11b/g/n), 2.4GHz.
4. Games control: Touch screen, buttons (dual L+R button, dual joystick), G-sensor.
5. Games support: Android Games, PC Games, PSP Games.
6. Google Play: Support.
7. 18 Simulators: PSP, NDS, DC, PS1, ONS, N64, CPS1\CPS2\CPS3, Neo-Geo, GBA, SFC, FC, MD.
8. Bluetooth: V4.0.
9. Wi-Fi Direct: Yes.
10. Multimedia support:
– Audio format: mp3, aac, aac+, eaac+, amr, wb-amr, midi, ogg and more.
– Video format: 4K(3840*2160), 1080P (1920×1080) MKV, RMVB, AVI, MPEG4,??H.265 etc.
– Picture format: JPEG, PNG, GIF, BMP and more.
11. Buttons: Direction key, ABXY, double LR buttons, two sticks, select, start, volumn, reset, power.
12. Speaker: Stereo double speaker.
13. Connectors: USB2.0, 3.5mm earphone jack, Micro TF card slot max 128GB (not included).
14. TV-out: HDMI Dual-screen display, up to 1080P.
15. Battery: 10000mAh lithium-ion polymer battery.
16. Sensor: Gravity sensor.
Package List
1. Console x 1
2. Adapter x 1
3. USB 2.0 cable x 1
4. User guide x 1

More Pictures

Pack All Images and Download